Most trusted roofing team in Darwin NT
We are the #1 Roof Service in the Northern Territory. Service and Pricing You Can Rely On With A Guarantee On All Work. Roofing Darwin - Roof Repairs & Restorations.
Local NT Owned & Operated
Our Professional Team Makes Roofing In Darwin A Hassle-Free Experience.
Professional Roofing Darwin
Do you believe that your roofing system may need repair work? Are you developing a new house or expanding your industrial space? Do you want to boost the life expectancy of your roof? Are you thinking about new Roofing in Darwin? If you answered yes to any of these, you need the assistance of an extremely skillful, completely certified and insured roofing Darwin company. The good news is, you've come to the right place!
At Roofing Darwin – Roof Repairs & Restorations, we're a group of competent roofing professionals that can install, mount and fix all types of roofs, from slate to Colorbond metal roofing systems. Our professionals cover brand-new roof setups with an amazing 15-year service warranty, and no task is past the capabilities of our professional tradespersons. Using the finest products, we produce roofing that incorporates aesthetic appeal and has durability in mind, so give us a call if you need the experts for roof repair services in Darwin.
Our Darwin roofing Services
We can carry out quality roof restorations in Darwin no matter the current condition your roofing system is in. From Colorbond to tile roofing, we do it all.
Occasionally roof replacement is the only choice you might have. We are proud to be providing among the very best re roofing services in the Northern Territory.
Is your roofing system looking a little shabby? Add value to your residential or commercial property and offer it a fresh face-lift with our roof painting Darwin services.
Whether you require leaking roof repairs in Darwin or have some other damages such as broken guttering, our team can help and assist you to fix the problem fast.
We are locally owned & operated
Our Roofing Darwin – Roof Repairs & Restorations group services the entire Darwin region, including Palmerston and Winnelie. Our group is experts in roof reconstructions, roof cleaning, roof painting, rain gutter replacement, leaking roof repair Darwin in addition to downpipe setup. If you're looking for any type of roof services in Darwin NT, then our group will definitely be more than happy to help you.
Why not get a free measure & quote today? It's fast and we can supply expert guidance for your project or roof repairs.
What Makes Us the best roofing Darwin Team?
We began our organisation to provide our services to the wider community in Darwin with a pricing and skill that cannot be matched. When you select us for your roof repairs, you can be sure you will receive the finest top quality roofing system products, impressive customer support as well as fast turnaround times regardless of the size of the project.
Our Vision at Roofing Darwin
Providing the best roofing services in Darwin, NT. We intend to please, every customer and leave them with a durable roof that they can be happy with for many years to come.
Roof Restorations Darwin NT
The go-to company for roofing in Darwin, NT.
We can finish any type of roofing work in Darwin to the greatest standards
Our team have been relied on for a vast array of challenging roof remediation jobs, from establishing contemporary domestic roofing systems to restoration of commercial buildings that have been neglected for years.
We offer 100% free quotes and perform thorough roof repair assessments
We're more than pleased to see your home or commercial space and take a look at the problem of your roofing. You can have complete peace of mind that we're completely honest with our prices.
We are experts in re pointing, re sealing and roof painting in Darwin.
Being the best roofers in Darwin, we can fix as well as set up all related components, including zinc cladding, rain gutters and lead flashing on all roofing types.
We offer superior service guarantees with long warranties on most products.
Although mishaps are something we just do not make; are fully insured for your assurance.
Our roofing Darwin professionals are trained and fully qualified.
We only employ only the best team, since we want to provide the best outcome for you.
We can perform all residential, commercial and industrial projects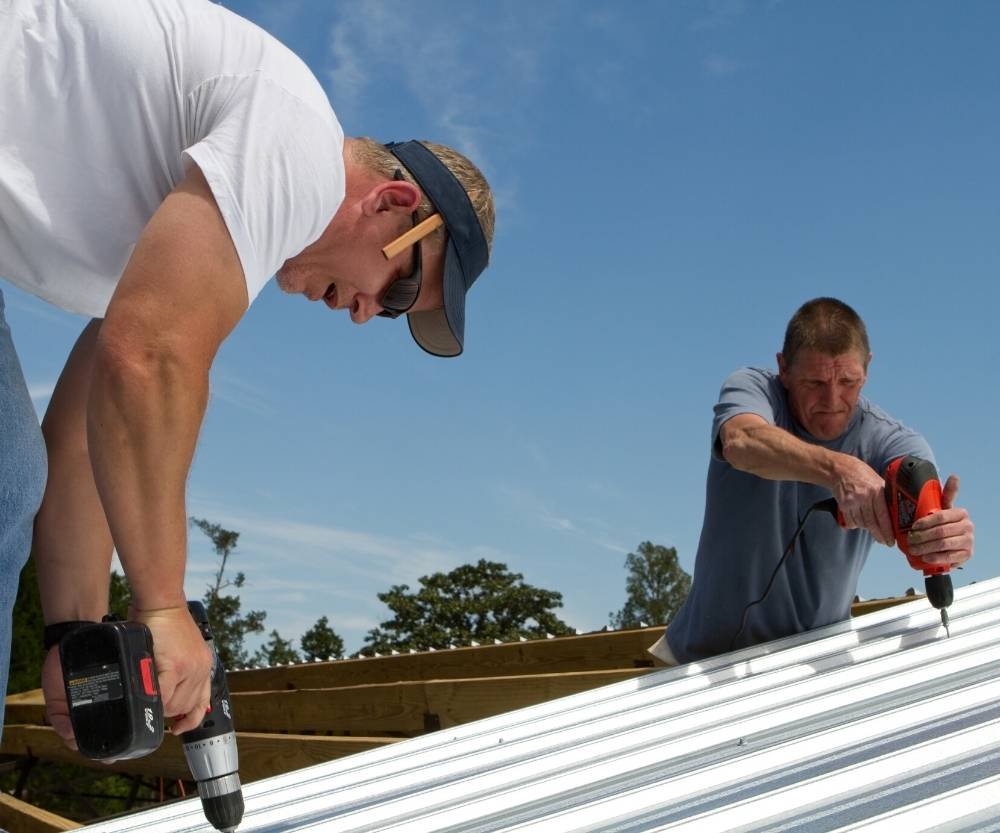 OUR Darwin ROOFING SERVICES.
OTHER POPULAR Darwin ROOF SERVICES we perform
A roof restoration in Darwin will put an end to continuous leakages, annoying noises & ongoing repairs. 
A Roof Restoration will absolutely bring your roof back to its previous magnificence. If you call for a roof restoration in Darwin, look no further. We are proud to say that we are the best roofing contractors in Darwin! Is it better to restore or replace your entire roofing system? Typically, there is no need to replace your roof when we can repaint it with a roof restoration in Darwin.
Whether you require an entire new roof or simply have a little leakage needing repairs we do it all including:
New roof replacements.
Re roofing.
Roof tiles to steel Colorbond roofs.
Ceramic tiles in addition to metal Roofing.
Gutter fascia as well as also downpipes installation and repair.
Custom designed flashings.
Insulation, skylights as well as whirly birds install and repair.
– Roof Repair work and property maintenance
We are happy to have a chat and discuss your requirements. Simply give us a call today.
Great Team, Great Roofing Services.
We believe that when it comes to your home or commercial space, having a roof that will not leak or need further repairs is of the utmost importance.
Free Quotes and NO surprise charges; we always let our clients know what to expect.
Our team only use the best materials available from Colorbond and Bluescope steel.
Highly professional team that is adequately trained to perform all roofing services.
Just a quick note to say thank you very much for the excellent service. Theses guys done an excellent job on our roofing and replaced it with a stunning Colorbond roof. Best Prices in Darwin!