Most trusted roofing team in Palmerston City
We are the #1 Roof Service in Palmerston and Darwin. Service and Pricing You Can Rely On With A Guarantee On All Work. Roofing Palmerston - Roof Replacements & Restorations.
Local NT Owned & Operated
Our Professional Team Makes Roofing In Palmerston A Hassle-Free Experience.
Professional Roofing Palmerston CITY
At Roofing Palmerston – Roof Repairs & Restorations, we're a group of skilled roofing experts that can repair, restore and fix all types of roofs and gutters, from tile to Colorbond metal roofs. Our specialists cover brand-new roof installations with a fantastic 15-year service warranty, and no task is past the skills of our professional team of tradespersons. Using the best products, we provide roofing that combines good looks and has durability in mind, so give us a call if you need the professionals for roof replacement services in Palmerston.
Many years in the Roofing industry has taught us to source the best quality roofing materials use the most innovative tools to ensure excellent final results for all our clients. These tools allow us to get the project done quicker, more precisely and deliver a premium quality roof, thereby saving you you're hard-earned dollars. We price your roofing projects to bring you the greatest bang for your buck while concentrating on delivering an excellent return of investment when you go to sell your home or commercial space.
Our Palmerston roofing Services
We can carry out quality roof restorations in Palmerston no matter the current condition your roofing system is in. From Colorbond to tile roofing, we do it all.
Occasionally roof replacement may be the best option available. We are proud to be providing among the very best re roofing services in Northern Territor
Have you noticed leaks in your roof after heavy rains? It may be worth having it checked by our professional team before further damage occurs.
We are locally owned & operated
Our Roofing Palmerston – Roof Repairs & Restorations team are Locals supporting locals. We are proud to have been born and bred in Darwin, Norther Territory. Our loyal customers, like us, are part of the overall community. And often, we become lifelong friends. Plus, unlike some of our competitors, we keep and reinvest our dollars straight back into our own local community. We only employ local Darwin skilled roofing professionals and are proactive on growing our fantastic community, supporting local businesses and keeping our town abundant and thriving.
What Makes Us the best roofing Palmerston Team?
We began our business to provide our services to the wider community in Darwin with pricing and craftsmanship that cannot be matched. When you choose us for your roofing solutions, you can be sure you will receive the finest top quality roofing system products, awesome customer support as well as fast turnaround times regardless of the size of the project.
Our Vision at Roofing Palmerston
Providing the best roofing services in Palmerston, NT. We intend to please, every customer and leave them with a durable roof that they can be happy with for many years to come.
Roof Restorations Palmerston City
The go-to company for roofing in Palmerston NT.
We can finish any type of roofing work in the Northern Territory to the greatest standards
Our team have been relied on for a vast array of challenging roof remediation jobs, from establishing contemporary domestic roofing systems to restoration of commercial buildings that have been neglected for years.
We offer 100% free quotes and perform thorough roof replacement assessments
We're more than pleased to see your home or commercial space and take a look at the problem of your roofing. You can have complete peace of mind that we're completely honest with our prices.
We are experts in re roofing tile to Colorbond and roof restorations in Darwin.
Being the best roofers in Palmerston, we can fix as well as set up all related components, including zinc cladding, rain gutters and lead flashing on all roofing types.
We offer superior service guarantees with long warranties on all services.
Although mishaps are something we just do not make; our team are fully insured for your assurance.
Our roofing Palmerston professionals are trained and fully qualified.
We only employ the best team, since we want to provide the best outcome for you.
We can perform all residential, commercial and industrial projects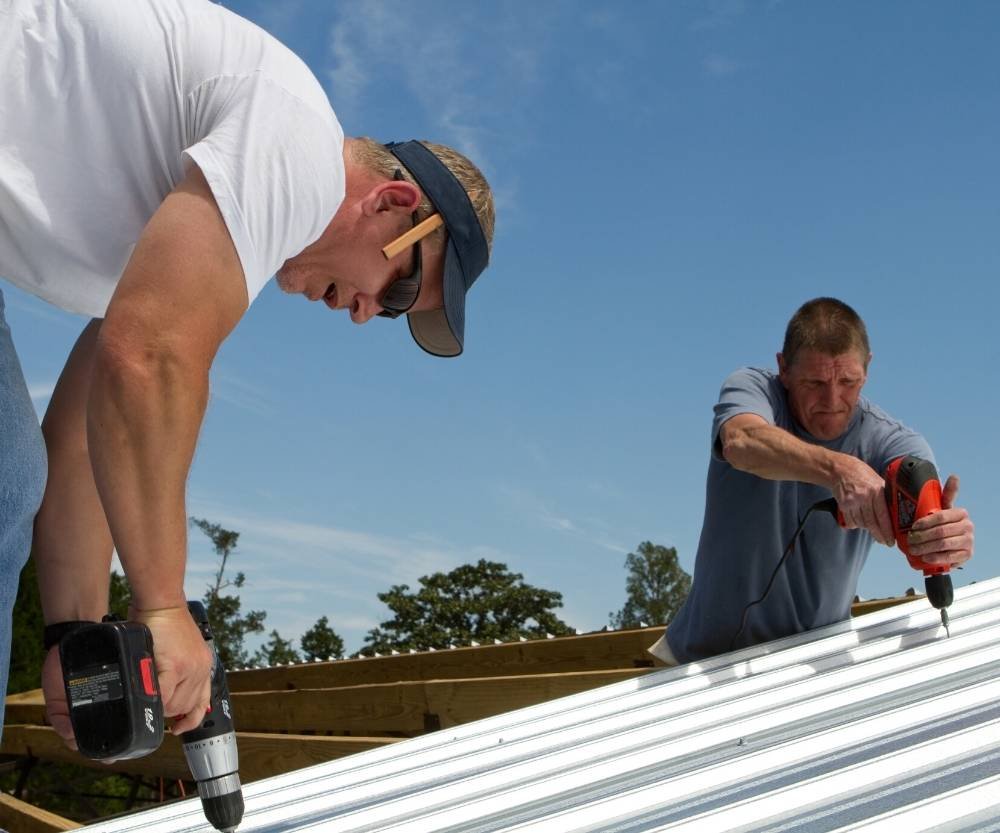 OUR Palmerston ROOFING SERVICES.
We provide the best roof replacement services for both commercial along with house buildings. Whatever size or kind of roofing system you need to be installed, our expert roofing contractors in Palmerston will definitely consult you on the very best choices readily available and ensure you keep within your budget plan.
When you call for a new roofing system installed, give us a call. We'll assist you in establishing the most efficient solution and see to it the job is done right.
Roof Replacement Palmerston.
If you require a roof replacement in Palmerston, you can trust our committed group of roofers for the job. We deal with all roofing products, from slate and roof tiles to steel and colorbond. We even mount brand-new Bluescope roofing in Palmerston. If you want your industrial or commercial roofing to standout, you might think about colorbond roofing. Colorbond roofing can last more than 100 years if well-kept. If you want to make sure your roof replacement stands the test of time, our colorbond or zinc cladding solutions may be the perfect option for you.
You can trust us as you professional roofers for friendly advice. We'll simply suggest a roof replacement as opposed to fixing your roofing if that's what is the best value in the long run.
Roofing Restorations in Palmerston at the very best prices.
Wherever you lie in the Northern Territory, your roofing requires normal upkeep to prevent expensive problems further down the road. Direct exposure to the extreme Australian tropical weather, particles in the air, tree branches, as well as various other elements such as debris will definitely wear down your roof in time. If you're not taking the suitable roof repair actions, you may start seeing leaks or roof sag, which might result in a complete roofing replacement in the near-future.
Our skilled industrial or residential roof restoration services provide a quick, economical, as well as also very useful method to look after your roof. Keep one step ahead of expensive roof damage with the help of the specialist roofers in NT!
Save Money and Have your roofing checked today.
Whether you're a local of Darwin or have an industrial residential property somewhere in the region, you must have your roof inspected by a professional ideally once a year. Roof assessments are the only means to know just how much damages your roofing system has, and likewise just how swiftly it may need to be repaired or replaced.
Our Palmerston Roofing experts will certainly evaluate your roof as well as provide you with a complete, thorough report, so you know specifically what to expect. We'll recommend the most effective steps to keep your roof in perfect condition and also help to save you money. If you need roof restorations in Palmerston, we will offer you the best advice.
OTHER POPULAR Palmerston ROOF SERVICES we perform

Roof Restoration Palmerston
A roof restoration in Darwin will put an end to continuous leakages, annoying noises & ongoing repairs. 
A Roof Restoration will absolutely bring your roof back to its previous glory. If you call for a roof restoration in Darwin, look no further. We are proud to say that we are the best roofing contractors in Northern Territory! Is it better to restore or replace your entire roofing system? Typically, there is no need to replace your roof when we can repaint it with a full roof restoration.
Whether you require an entire new re roof or simply have a roof that requires a new lease on life with some fresh paint we do it all including:
New roof replacements.
Re roofing.
Roof tiles to steel Colorbond roofs.
Ceramic tiles in addition to metal Roof replacements.
Gutter fascia as well as also downpipes installation and repair.
Custom designed flashings.
About The City Of Palmerston
Settlement history Of Palmerston City
Traditionally, indigenous people lived in the area, with some remaining to do so. The residential growth of Palmerston dates from 1982 when the City was planned as the main city growth centre of the wider Darwin region. Suburbs were developed in stages, beginning with Gray and Driver in the early 1980s, followed by Moulden, and then Woodroffe and Marlow Lagoon. Suburbs developed in the 1990s included Bakewell and Rosebery, and then Durack, Farrar and Gunn from the late 1990s. The population of the City more than doubled during the 1990s, increasing from under 8,000 in 1991 to nearly 21,000 in 2001. Rapid growth between 1996 and 1998 was largely a result of defence personnel moving into the area as part of the Army Presence in the North Program (APIN). Growth continued from 2001, although at a slower rate, with the population rising to over 27,000 in 2011. Population growth is expected to continue.
Land use
The City of Palmerston is a rapidly growing residential area, with light industrial areas in the suburbs of Pinelands and Yarrawonga. Palmerston has functioned as a dormitory area for the families of servicemen on defence bases in and around Darwin. The City encompasses a total land area of 56 square kilometres.
Transport
The Stuart Highway serves the City of Palmerston.
Major Features Of Palmerston
Neighbourhoods in Palmerston City We Service For All Types Of Roofing
We are happy to have a chat and discuss your requirements. Simply give us a call today.
Great Team, Great Roofing Services.
We believe that when it comes to your home or commercial space, having a roof that will not leak or need further repairs is of the utmost importance.
Free Quotes and NO surprise charges; we always let our clients know what to expect.
Our team only use the best materials available from Colorbond and Bluescope steel.
Highly professional team that is adequately trained to perform all roofing services.
Just a quick note to say thank you very much for the excellent service. Theses guys done an excellent job on our roofing and replaced it with a stunning Colorbond roof. Best Prices & Service in Darwin!